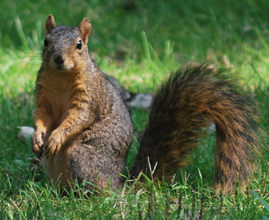 This is not a squirrel.
This is a TREE RAT.
I am long past the days where I was impressed with their acrobatics.
They are now the #1 threat to my fruit tree crop:
Peaches
Pears
Plums
Apples
After years of waiting for my peach trees to bear fruit (at least 3 of them have died over the past 5 years) - this year I see signs of success.
Over the weekend I saw three of my peach trees full of fruit and my plum tree with even more.
Two days ago Atlanta had torrential winds that had my trees bent over as their leaves acted like a kite. These sustained winds cause some of the fruit to fly off.
I can tolerate Mother Nature. I hammered in more metal rods into the ground and used zip ties to hold the tree trunks more steady in the wind.
I CAN'T TOLERATE TREE RATS.
This morning I saw two tree rats having a field day on my green peaches.
The worst thing about them is that they take a few bites out of the under-developed peaches and then throw them on the ground.
When I looked out of my window and saw them I ran into the garage, got a bottle of "Critter Ridder" and yelled at them as I ran down the stairs. They both scurried off by the time I got close to the tree.
The worse thing about Tree Rats is that they have no respect for property.
I wouldn't mind if they took a few and allowed the rest to grow to maturity.
Instead - just as I noted with a pecan tree at another house that I used to live in - while I am away working to pay my bills, Tree Rats have all day to eat my treasure.
They have no sense of limits on what they take.
If you hear about a man who was arrested for firing a shot gun inside of city limits in Georgia as he killed some Tree Rats - it might be me.